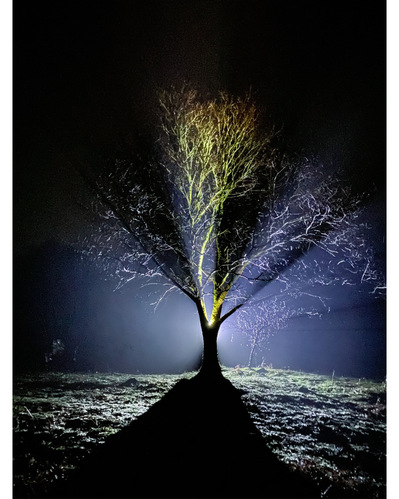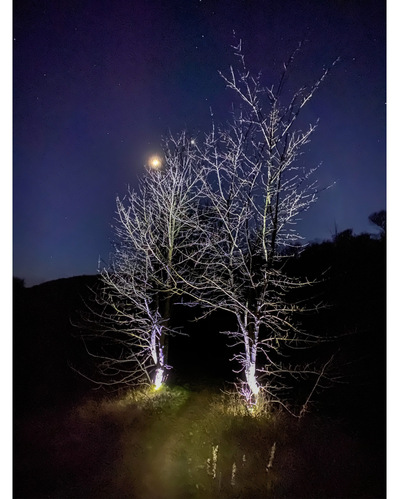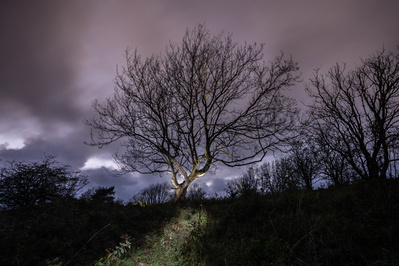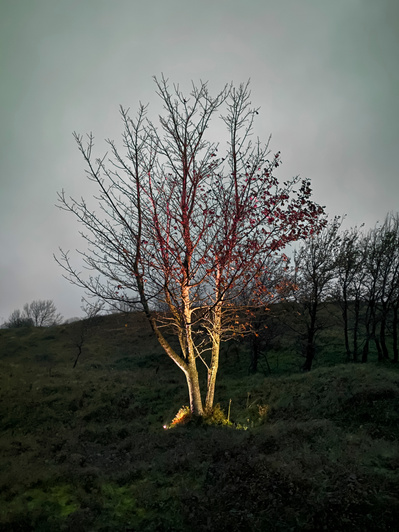 Night, Lights, Love, Lyrics
An iPhone project that explores a sense of freedom. This project is a love letter… A love letter to not stopping. A love letter to running. A love letter to my favourite place. A love letter to music. A love letter to light. A love letter to technology. A love letter about love.
This project is a complete departure for me. I utilise a large format camera for a lot of my work, and I almost always have an SLR of some variety in my hand. This is the first project I have created that fits in around other passions – music and running. Normally, as the year draws to a close, the nights draw in and the weather turns colder, I stop running. I tend to run after work, off road, in my favourite environment – Newton and Merthyr Mawr dunes, in South Wales. Off road running, at night, in an environment that has no artificial light wasn't a prospect that appealed, so I would always put running on hold until the light returned in March. But in 2019 that changed; I decided I would not stop. So one evening, after work, on a night filled with moonlight, I grabbed a torch, my phone, my headphones, the dog, and we ran.
And it was terrifying. Wonderfully, exhilaratingly terrifying. A lack of light, uneven terrain, noises from the woods, the moon shining through the trees… I ran like the wind. When I got back to the car I felt amazing. It was the best run I had been on for a long time.
So I went again, the very next night. And again, the moon ran alongside me, and helped light my path. And it was then that I realised I had a camera in my pocket; my iPhone. So I pointed it at the moon through the trees and I fell in love. Darkness, light, photography and music. Nights, lights, love, lyrics. An idea formed.
I went out the next night, this time with a headtorch as well as my hand torch, and for the next images I illuminated the trees. And I ran, and I shot, and I listened, and I loved. That single hour per day became my release and my wellbeing. I decided that I would make a note of the lyrics that were playing at the time of image making, and they became an accompanying narrative alongside the imagery.
This project has educated me. In new music, in not stopping, in abandoning the endless need for technological progression, in thought, in love. You don't need the latest gear to create something you love, just for you. You don't need to overthink an idea. An idea can come from anywhere, as long as what you are doing captivates you and fulfils your sense of need.
Nights, lights, love, lyrics
I shed my fears out in the moonlight,
The sky is black immensity.
The universe seems merely indifferent,
Now the darkness has a hold on me.
The light shines but we are living in the dark,
The myths of the modern age always darken the door.
In that failing light we are pulling at the seams,
A wave comes crashing like a fist to the jaw.
I've got this light;
I'll be around to grow.
Who I was before;
I cannot recall.
And I wonder where you are tonight,
If the one you're with was a compromise.
Fill your glass with gin, make you smile,
All for you, fill your heart with pride.
I take a journey to the unknown,
A flashing light above me shines long.
Crazy skies all wild above me now;
The rain falls like a sad song.
Bird has flown;
Misty evening.
Path well-worn;
River flowing.
Whose moon is it that shines down on me?
Pull me close and let me hold you in.
Meet me up in the waning light,
So bright, now that it's calling.
We shine our light across the ocean,
Free speech, lipstick in the moonlight.
I'd never be that close again to your lips and perfect skin,
as the tide receded into the night.
I had a dream,
I got everything I wanted.
Not what you'd think,
If I'm being honest.
In the black seaside night of nowhere,
Waiting for the hint of a spark.
From a different solar system many galaxies away;
Crimson moon lingers above the dark.
And then came the rush of the flood;
Stars at night turned deep to rust.
Feed my will to feel this moment;
Urging me to cross the line in dust.
In night-time light,
Dancing to a different tune.
Dive into a pool so cool,
And if I sink I sink.
Unknown the unlit world of old,
You're the sounds I never heard before.
Off the map where the wild things grow,
Another world outside my door.
Now I'm weaker than the palest blue,
And I was strong, strong in the sun.
Running through my woods with you,
I thought I'd see when day was done.
And when I run;
I fly, so high.
To dust we go;
Forgotten and absorbed.
As we're walking lines in parallel,
There are depths beyond compare.
Reaching out to embrace whatever may come,
I want to be for her what I could never bear.
Soon you will be out of sight,
Wants and needs connect me to the land.
Reaching out to embrace the random,
And I will enfold her outstretched hand.
Her; the heron,
Beautiful, now.
No trails are left,
I've come back changed somehow.